Our Proud History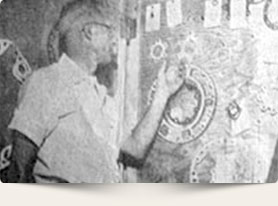 The K. Wm. Manufacturing Co., Inc., as it exists today, was built on three generations of family tradition and experience that dates back to the early 1900's. The family business originated in Chicago, Illinois with Theodore Beach and the founding of the Sandow Motor Company. He found great success building Sandow Trucks and Taxicabs, and as the business flourished the Sandow Taxi became a common and abundant sight on the streets of Chicago. However, as the economy began a downward turn and the stock market and banking industry failed, the company was forced out of business.
Despite the misfortune the economy had dealt the Beach family, they were determined to succeed. The family relocated to Springfield, Ohio where Theodore and his son Karl William Beach began the All-Style Collar Company. The family's success continued, and in 1938 upon the retirement of his father, Karl William renamed the business K. Wm. Beach Manufacturing Co., Inc.
Entering the automotive die cutting business, Mr. Beach had a new vision for the company's future. Built on his determination and overwhelming drive for success, K. Wm. Beach Manufacturing Co., Inc. became a significant force in the business community, and thus continued the family's tradition of success.
Today, K. Wm. Beach Manufacturing Co., Inc. remains family owned and operated as a privately held entity. Bret L. Beach and William R. Beach have furthered the family's history of business success by expanding the scope of services. In addition to the die cutting business, the company now provides automotive and motorcycle subassemblies, as well as automotive interior trim components.
The owners and employees of K. Wm. Beach Manufacturing Co., Inc. strive to expand the company's business presence by seeking new opportunities. The owner's envision continued growth for the company, and are committed to advancing the company's respected position in the business and local communities.